Why MBBS In Bangladesh
The main important reason is Bangladesh has the highest FMGE passing rate. FMGE full form is Foreign Medical Graduates Examination.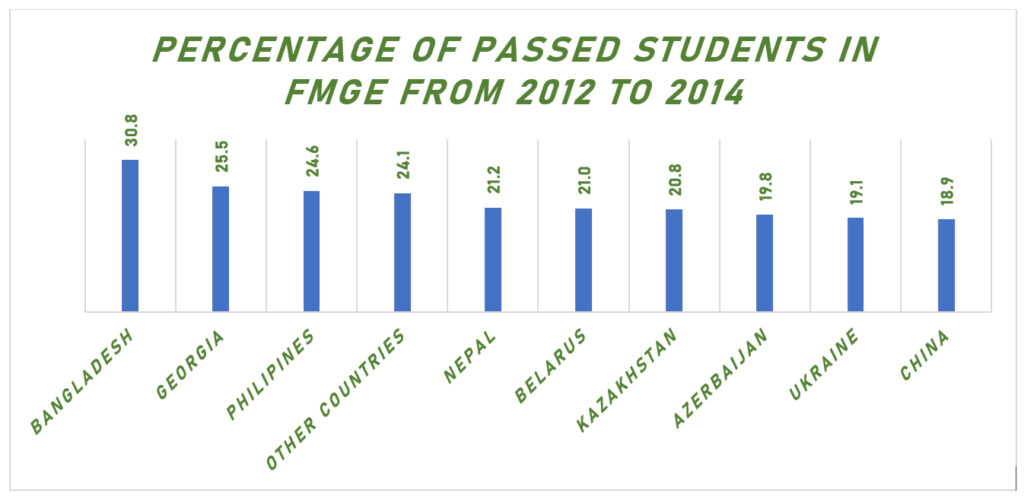 Same study pattern as in India. Total course of study is 5 years.
Clinic practice is quite good in Bangladesh: In most countries, there is a study on robots but in Bangladesh there is a study on Actual Human. This is the main reason for Bangladesh has highest MCI passing rate compare to other countries.
Similar climate & diseases as in India: The climate of India and Bangladesh are almost same, so diseases are almost same and because of same diseases Bangladesh followed the same books as in India.
Books followed by The Colleges are same as in India: As books are same it is easy to clear FMGE Exam. Though books are same college faculty do not give extra classes to clear FMGE (no extra burden). In other countries students have to take extra classes there or after coming to India they have to spend minimum one more year to clear FMGE Exam.
Cuisine & Food habits are same: Indian food (veg & non-veg) is easily available there.
Separate hostels for boys and girls in every college. Many Colleges have women hostel in their campus. Colleges are very strict while following their hostel rules.
Visit HOME frequently as Bangladesh is the nearby country:
a) Flight: Kolkata to Dhaka – 0 hrs. 40 mints & Fare – 4,000 to 5,000/-
b) Bus: From Kolkata to Dhaka 12:00 hrs. (approx.) & Fare – 1,500/-
c) Train: Kolkata to Khulna – 5:00 hrs. / Kolkata to Dhaka – 8:30 hrs.
The MBBS degree from a Bangladesh Medical University is recognized by WHO and UNESCO and is accepted globally. So students can apply for USA for MD Courses.
Only Women College is also there.
The hospitals are well equipped with great infrastructure and technology. The students are provided with practical to improve their skills which he/she will not get in other countries.
Alcohol & Drug use is banned in Bangladesh: In Bangladesh drug and alcohol is strictly banned. Parents do not have to fear about their children regarding the matter. Parents may have a peace of mind while sending their kids to study MBBS in Bangladesh.
Medium of teaching is English: In all medical colleges of Bangladesh the medium of teaching is English. There is no language exam. A large number of Hindi, Bengali, Oriya, Assamese, Tamil, Gujrati, Marathi etc. students are already studying there. The local language used there is Bengali, English, and Hindi.
Disadvantages of MBBS in Bangladesh
In Bangladesh, there are more than 70 medical colleges where you may apply for admission but not all colleges are suitable for international students. The reason behind this is that some colleges have poor faculty also patient flow is low.
If compare to Russia, Ukraine and China, Bangladesh doesn't have big and old colleges as you will find in other countries
Some colleges have air conditioning, however some hostels need to be upgraded.
Just like hostel food is adjustable in India, same in Bangladesh food is also adjustable. Food is not very good and not too bad, it's just adjustable, If you are a pure vegetarian, then you have to arrange from outside the hostel.
Bangladesh does not admit students who have been out of school for more than two years following their 12th grade.
Eligibility Criteria for MBBS in Bangladesh
Admission of Foreign Students (SAARC COUNTRIES) in the MBBS and BDS courses in the Non- Government Medical and Dental Colleges in Bangladesh for Academic Year 2022-2023 under Self-Finance scheme:
a) Secondary School/Class-10 examination passed not before 2018.
b) Higher Secondary/ Class-12 examination passed not before 2021.
c) Minimum aggregate GPA in Class-10 & 12 is 7.00
d) Minimum GPA either in Class-10 or 12 is 3.00
e) Minimum GPA in Biology is 3.50
| | |
| --- | --- |
| GPA | % of Marks |
| 5.00 | 80.00 – 100.00 |
| 4.00 – 4.99 | 70.00 – 79.99 |
| 3.50 – 3.99 | 60.00 – 69.99 |
| 3.00 – 3.49 | 50.00 – 59.99 |
| 2.00 – 2.99 | 40.00 – 49.99 |
f)  For calculation of GPA against the marks obtained in Class-10 exam, only top 5 subjects are considered. Therefore GPA is = (total marks obtained in top 5 subjects)/5.
g) Optional subjects shall be considered if GPA is below 5.
h) For calculation of GPA against the marks obtained in Class-12 exam, only 3 subjects (Physics, Chemistry and Biology) are considered. Qualifying grade in each subject individually is "C". Therefore GPA is = (total marks obtained in 3 subjects)/3.
i) Successful applicants have to produce all academic certificates in original at the time of admission.
j) For further details, if any, applicants may contact:
      Innovidya Consultants Pvt. Ltd.
      138 Jodhpur Gardens, Near South City Mall, Kolkata – 700045, West Bengal, India.
       Ph.: +919051772121
Admission Procedure for MBBS in Bangladesh 2022-2023
1)    Submit Scan copy of Class-X & XII Mark Sheet & Neet Result.
2) Offer Letter has to be issued from the College within 7-10 working days.
3) Pay booking fees direct to college account within 7-10 days
4) Documents required in Original:-
Admit Card, Marks Sheet & Pass Certificate – Class X
Admit Card, Marks Sheet & Pass Certificate – Class XII
Passport, Pan Card & Aadhar Card
5)  4 sets of Xerox of all above documents.
6)  20 copies passport size colour photograph with white background
7) Pay rest due amount of 1st year fees.
8)  Confirm Admission Letter issued from the College before visa
9)  At the end student will get the VISA and start his/her dream journey.
List of Private Medical Colleges in Bangladesh
| | |
| --- | --- |
| COLLEGE NAME       | UNIVERSITY |
| Bangladesh Medical College | DHAKA |
| Dhaka National Medical College | DHAKA |
| Holy Family Medical College | DHAKA |
| Jaharul Islam Medical College | DHAKA |
| Women's Medical College | DHAKA |
| Popular Medical College | DHAKA |
| Enam Medical College | DHAKA |
| Community Based Medical College | DHAKA |
| East West Medical College | DHAKA |
| Anwar Khan Modern Medical College | DHAKA |
| Green Life Medical College | DHAKA |
| International Medical College | DHAKA |
| Delta Medical College | DHAKA |
| IBN Sinha Medical College | DHAKA |
| MH Samorita Medical College | DHAKA |
| Marks Medical College | DHAKA |
| City Medical College | DHAKA |
| Monno Medical College | DHAKA |
| Kumudini Medical College | DHAKA |
| Ad-Din Women Medical College | DHAKA |
| TMSS Medical College | RAJSHAHI |
| Rangpur Community Medical College | RAJSHAHI |
| Monowara Shikder Medical College | DHAKA |
| Uttara women medical college | DHAKA |
| Bhamanbrari medical college | CHITTAGONG |
| Barind medical college | RAJSHAHI |
| Southern medical college | CHITTAGONG |
| Dr. shirajul Islam Medical College | DHAKA |
| President Abdul Hamid Medical College | DHAKA |
| Teirunnessa Memorial Medical College | DHAKA |
| Universal Medical College | DHAKA |
| Ad-Din sakina Women Medical College | DHAKA |
| Z.H. Shikder Women Medical College | DHAKA |
| Shah Mokhdum Medical College | DHAKA |
| Bikrampur Bhuiya Medical College | DHAKA |