Green Life Medical College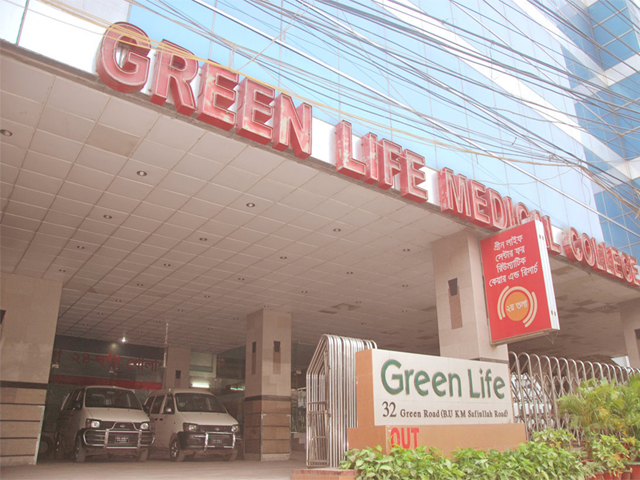 Top Reason Why Choose Green Life Medical College
The private Green Life Medical College offers a five-year MBBS program. The World Health Organization (WHO) and the National Medical Commission (NMC) both recognize the MBBS degree. Students receive the best education and the best facilities at the college.
In Bangladesh, Green Life Medical College is one of the best options for MBBS. The primary reasons are as follows:
MBBS at Green Life Medical College, Bangladesh can be a great relief for students who want to study MBBS abroad because it is not possible for every student to pay the high tuition fees at Indian private medical universities.
The college has top-notch facilities like excellent laboratories, large classrooms, departmental museums, libraries, reading rooms, research rooms, cafeterias, sports complexes, and other facilities.
The institute provides world-class advanced educational excellence and research.
The library has a sufficient number of books and IT resources for students.
The college provides practical experience on the human side of medical science and prepares students for future scientific developments and health care.
There is the assurance of high-quality clinical practices.
At Green Life Medical College of Bangladesh, the medium of teaching is English. There is no language exam. A large number of Hindi, Bengali, Oriya, Assamese, Tamil, Gujarati, Marathi, etc. students are already studying there. The local language used there is Bengali, English, and Hindi.
You also visit our  Youtube Channel for more information or Call us  on +91 9051772121
About Green Life Medical College
Green Life Medical College, Dhaka, MBBS in Bangladesh, was established when the founders of Green Life Hospital decided to establish a medical college following the hospital's tremendous success in 2005. The college was established in 2009, with the first class beginning in 2010. Green Life Medical College currently has 110 students enrolled each year, including international students.
Green Life Medical College (GMC) is affiliated with the University of Dhaka, which is accredited by the Medical Council of India, and is accredited by the Ministry of Health and Family Welfare (MOHFW), the Government of Bangladesh, and the Bangladesh Medical and Dental Council (BMDC). This means that after graduating from Green Life College, Indian students can apply for a NOC from the Medical Council of India (MCI) and take the screening test.
Green Life Medical College Syllabus
Bangladesh MBBS syllabus is similar to India. In medical colleges in Bangladesh, the years/courses are referred to as "phases." MBBS students would go for a year of internship in the country after finishing 5 years/phases. The syllabus of MBBS in Bangladesh follows the National Medical Commission's recommendations and is modeled after a medical University in India.
Phase
Duration
Subjects
Examination
1st Phase
1.5 Year

Anatomy

Physiology

Biochemistry

1st Professional MBBS
2nd Phase
1 Year

Community Medicine

Forensic Medicine

2nd  Professional MBBS
3rd Phase
1 Year

Pharmacology & Therapeutics

Pathology

Microbiology

3rd  Professional MBBS
4th Phase
1.5 Year

Medicine & Allied Subjects

Surgery & Allied Subjects

Obstetrics & Gynaecology

Final Professional MBBS
Green Life Medical College Eligibility Criteria
Every applicant who aspires to be admitted to Green Life Medical College should take into consideration the eligibility requirements of the Green Life Medical College.
The students must have complied to sit for the 10+2 exam at the recognized university or school.
Minimum aggregate GPA in Class-10 & 12 is 7.00
Minimum GPA either in Class-10 or 12 is 3.00
Minimum GPA in Biology is 4
| | |
| --- | --- |
| GPA | % of Marks |
| 5.00 | 80.00 – 100.00 |
| 4.00 – 4.99 | 70.00 – 79.99 |
| 3.50 – 3.99 | 60.00 – 69.99 |
| 3.00 – 3.49 | 50.00 – 59.99 |
| 2.00 – 2.99 | 40.00 – 49.99 |
For calculation of GPA against the marks obtained in Class-12 exam, only 3 subjects (Physics, Chemistry, and Biology) are considered. Qualifying grade in each subject individually is "C". Therefore GPA is = (total marks obtained in 3 subjects)/3.
Optional subjects shall be considered if GPA is below 5.
Admission Procedure Of Green Life Medical College 2023
1)    Submit Scan copy of Class-X & XII Mark Sheet & Neet Result.
2) Offer Letter has to be issued from the College within 7-10 working days.
3) Pay booking fees direct to the college account within 7-10 days
4) Documents required in Original:-
Admit Card, Marks Sheet & Pass Certificate – Class X
Admit Card, Marks Sheet & Pass Certificate – Class XII
Passport, Pan Card & Aadhar Card
5)  4 sets of Xerox of all above documents.
6)  20 copies of passport-size color photographs with white backgrounds
7) Pay the rest due amount of 1st-year fees.
8)  Confirm Admission Letter issued from the College before the visa
9)  At the end, the student will get the VISA and start his/her dream journey.
BGC Trust Medical College Fees Structure 2023​
Fee structure for MBBS Course, 2022-2023 session:
Total Fee




Excluding food and

accommodation &

University Examinations (Professional examination) fees

USD $ 42,000.00




Fee structure breakdown: 

Tuition & other academic fees:$ 39,000

Medical Council registration fee :$ 1,000

Ministry of Health & Family Welfare fee :$ 1,000

University of Dhaka registration Fees :$ 1,000

First Installment

(during Admission)

USD $ 22,000.00

Second Installment

(January 31, 2024)

USD $ 8,000.00

Third Installment

(January 31, 2025)

USD $ 7,000.00

Final Installment

(January 31, 2026)

USD $ 5,000.00




Accommodation cost (Non- AC twin sharing room)





                        $6,000.00 (for 5 years)

at the rate of $ 100.00 per month




Payable by TT (USD) monthly/half-yearly, only if a student wants to reside in the College hostel. 

Food Cost





Self (e.g.: College Cafeteria; around $ 1.50 per meal)

Internship Fees





                        $2,500.00

(Two Thousand & Five Hundred USD only)




Payable within June 2025, only if a student wants to complete the Internship with a monthly salary.
Green Life Medical College Life For Indian Students
MBBS in Bangladesh has constantly been the maximum looked after and low priced alternative for aspiring medical doctors from India. Every year, nearly 600 Indian college students tour Bangladesh for their scientific studies. MBBS in Bangladesh is a great preference for Indian students. It is budget-friendly for Indian citizens. MBBS in Green Life Medical College has emerged as the top choice for Indian students for the following reasons:
Green Life Medical College hostels serve Indian food, so Indian students who pursue Green Life Medical College admissions do not experience a big change in their lifestyle.
In Bangladesh's best private and medical colleges, 25% of places are reserved for Indian students, so there are more opportunities in Bangladesh.
The college provides the hospital facility to its enrolled students.
Medical degrees issued by Bangladesh Medical University or Colleges are globally recognized and enable Indian students to practice medicine in India and other countries abroad.
 Indian food (veg & non-veg) is easily available there.
Frequently Asked Questions For Green Life  Medical College 2023
For the students' safety, Green Life Medical College is fully secured with CCTV camera surveillance.
The college provides hostel facilities for both girls and boys, and the hostels are well-equipped with a mess.
No, there is no other way to gain admission to this college.
My parents were not friendly with the abroad studies but after meeting with Innovidya, today I am studying in BGC Trust Medical College, Bangladesh. I am thankful to them for their encouragement. They were always in the core of my heart.
Thanks to Innovidya. They helped me so much and I have my Ukrainian student visa because of their excellent visa documentation. Extremely, their direction was brilliant and I am happy that I found the correct consultancy to manage me in the right direction of my career.
I am studying in BGC Trust Medical College, Bangladesh. It's a college of discipline and quality. I thanks to Innovidya for choosing this college for me.
I would prescribe Innovidya to whoever is searching for abroad studies. The best consultancy I have seen up until now. The advisors are proficient and supportive. Generally amazing administration. They are viable and don't give false expectation.
I was looking for a good abroad consultancy who can guide me in my higher education. Then I came in contact with the Innovidya. The consultants are very helpful and take all the responsibilities of my admission. The best part is they help me to get student visa in a very short period of time. Awesome experience.
I have taken admission in Gazi Medical College, Bangladesh through Innovidya. We had to take no trouble for the admission and other document processing as things were crystal clear to us. Thanks to them.
Innovidya made my dream come true. Best consultancy with effortless and wonderful opportunities to study in abroad with all cooperation.
Innovidya made my dream come true. They have shown me the new life. They have not only taken care of my academics but also solve every single issue of mine.
Being a female, my parents were scared about abroad studies but Innovidya makes it possible. My heartiest thanks to them. Now I am closer to my dream.
Innovidya is the best medical admission consultancy for MBBS in Bangladesh. I thank to fil so much of encouragement in me to pursue my dream.
My dream to become a doctor and serve the society. I came to know about Innovidya through an advertisement on ABP Ananda and they make my dream come true.